FÉMINA de Curro Leyton. Polideportivo La Lobilla.
Fémina
Isabel Fernández Domínguez – B1-C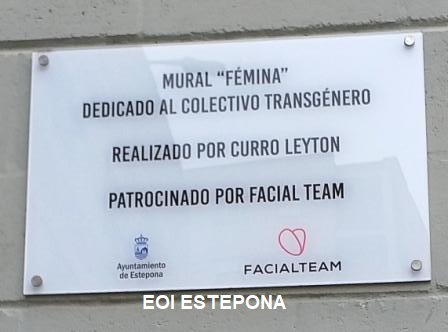 This awesome mural painted by Curro Leyton, represents a woman's face. Although it doesn't show the oval, just by painting some features such as the eyes, mouth and nose, we can feel it is a woman's face.
In fact, it is just some colourful spots. We can see one green eye, the other one is hidden behind the line of a turned-upnose. The mouth is very sexy: the lips are red and they open up. The nose is just a couple of dark spots, suggesting the nostrils.
I like it very much because, instead of showing a face, it suggests a face thanks to a clever use of color. I find it vey impressive.
Fémina
Anabel Gutiérrez García –B1-C
Fémina is the fourth wall painting by the artist from Málaga, Curro Leyton in Estepona. This mural is on an exterior wall of the Sports Center "La Lobilla" and it measures about 60m2 . It was inaugurated in July 2020 and was sponsored by Facial Team Company.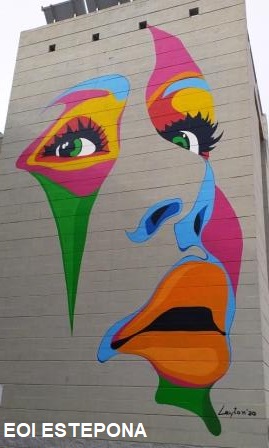 Curro Leyton wanted to dedicate this lovely wall painting too the transgender community. In fact, his intention was to give and instill a positive message to society about transgender people with it. So that, he chose a beautiful woman's face with some attractive positive colours such as pink, light green, yellow, blue…
In my point of view, the artist has done a really good amazing job because when I look at the mural, I feel positivity and happiness, I really like the colors and the face silhoutte.
Fémina
Carlos Francisco Carrizo Morales –B1-C
I have to say it was hard to understand this mural. After reading and searching on the Internet for a while, the meaning or what it represents by itself is more simple tan I thought.
Firstly, the paint looks like a woman made up with powerful colors,but at the end, it depends on what you want to see. You can see a woman, a man, a gay person, a transgender person or simply a human being perfectly designed with a deep gaze ( a gaze of freedom for me) and beautiful green eyes.
I don't know for sure the technique used, it seems like an abstract painting on a sidewall of a four-floor building.
The artist signature in on the lower right corner, it says "Leyton 20". Francisco (Curro) Leyton was born in Málaga in 1976 and he has created more than 430 pieces or art; five of them are Murals in Estepona. This one is located on an exterior wall of the Polideportivo la Lobilla.
Fémina
José Antonio Jurado Ponte – B1-C
"Fémina" was painted by the artist Curro Leyton. He is from Málaga.
This mural is dedicated to the trans community. With this mural Leyton tried to teach us that it is really important for all genders and sexual identities to be respected.
The mural measures 60m2 and it's included among the 20 best wall paintings in the country. The artist´s style is cubist and abstract with vivid colours, so to get people's attention. It's located in the municipal Sport Centre La Lobilla.
When I see this mural I'm confused, because, sometimes, I don't know if it is a man or a woman, but it is very interensting and showy.
Fémina
Eva Martínez, Ligia Ramona, Jose Luis Usero, Almudena Núñez, Desirée Sánchez y Sandra Ortiz. C1.1 A
Walking around Estepona we can find this magnificent work of art, called "Fémina", one of Curro Leyton´s paintings, and it is on the "La Lobilla Sport Centre" wall.
In this piece of art we can observe a person´s face made out of different shapes and in vivid colours. The author uses cubism, figurative and abstract styles.
We believe that Leyton tried to depict the constant fight for gender equality because we can´t really know if the painting show a woman or a man, but we can infer that the open eyes are looking for freedom.