6 SEGUNDOS DE OSCURIDAD de Ana Torralba "Anula Mixtura". Edf. Vista África.
6 SECONDS OF DARKNESS (VIRGINIA MATEOS GIL, VANESSA OROZCO PAYÁN- 1ºB)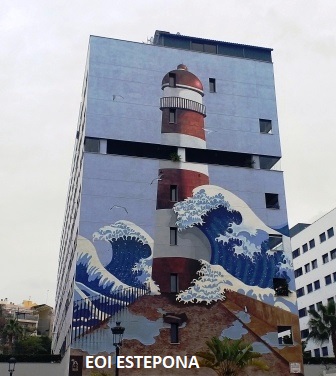 We have chosen this mural «6 seconds of darkness » because it represents the people of Estepona a lot. Many years ago, Estepona was just a fishing village. Our lighthouse has been in the fishing port since 1863. It's «Faro de punta Doncella». It reaches 18 nautical miles and It's 33 meters high. When our fishermen see the lighthouse from the high seas , they always say "we're at home". How beautiful the town of Estepona is with beautiful murals. Each mural tells something of our history.
The mural » 6 seconds of darkness» is a lighthouse with big waves. The Windows of the lighthouse are the original windows of the building. It measures more than 30 meters high and 420 square meters. Ana Torralba took 20 days to paint the mural and she was only 29 years old.
This young artist, Ana Torralba, is also known as Anula Mixtura. She's Spanish. She was born in Santander in 1987. This mural was inaugurated in October 2016.