ÁNGEL, EL BUCEADOR de Eric Aman. C/Gravina (Bda. Tres Banderas).
ANGEL, THE DIVER (Mª DOLORES CONTRERAS- 3ºB)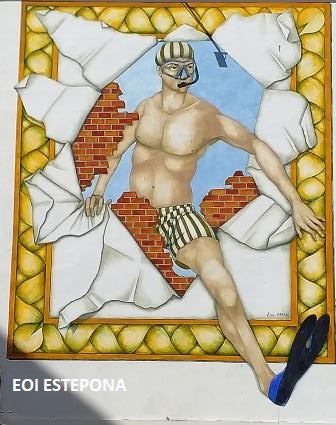 The mural was painted in 2014 by the French artist Eric Aman, who has his works of art in cities all around the world. He is a member of the International Academy of Modern Art in Rome, and has been awarded with The Great Cross of the Order of Saint Silvester among other honours.
This mural represents a young man dressed in a swimsuit and a face mask "breaking through" the wall of the building. It is an original work of art which plays with the space because it really seems as if he was leaving the building.
In my opinion, these great paintings of great artistic worth are extremely important to promote tourism in Estepona. I recommend visiting this mural to contemplate the talent of the French artist. All in all, it is a real privilege to enjoy this mural.
ÁNGEL EL BUCEADOR
CRISTINA MARCHAL PÁRRAGA B2.1.C
This mural was created in August 2014 by the French sculptor and painter Eric Aman, who has great works around the world and even he has a sculpture in the Vatican, in Rome.
The modern style painting, that was financed by Hidralia with 7000€, represents a bather crossing a brick wall and breaking into the facade building.
It is a very original and creative work as it plays with the sense of space as it seems that it is really coming out of the building.
I highly recommend visiting this mural and appreciating the art that this French artist possesses
I have chosen this mural because it is very original to me and you can see the great and professional work behind it and it is also painted on the street where my parents live which makes it more special.