EL PESCADOR MODERNO de Juan Pineda. Plaza San Fernando.
El Pescador Moderno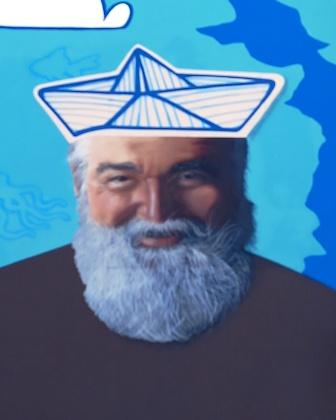 Paqui Cabello Sánchez – B1-C
This mural is called "El Pescador Moderno" (The modern Fisherman) and was painted by the artist Juan Pineda.
In this painting you can see an old fisherman with a beard and a cap on his head which looks like a boat. He smiles happily. The mural shows a seagull and a dolphin, and you can see the waves of the sea as well.
The mural integrates the old and the new; what it's new is the painting design and what it's old is the fisherman who represents a really old traditional job.
The artist has chosen three colors: black, White and different tones of blue to describe the sea, because this painting also represents the importance of the sea and the fishing in Estepona.
In my opinión, the mural shows the past and the present.
It is located on calle San Juan Bosco, here in Estepona and it has been the last mural painted this year, 2022.
El Pescador Moderno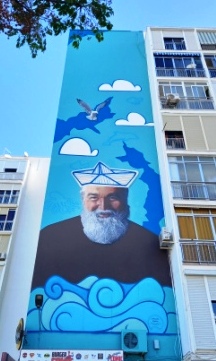 José Ignacio Granados Vicente – B1-C
The mural is called "The Modern Fisherman" ( El Pescador Moderno). It was created by Juan Pineda in March 2022 and is located on San Juan Bosco Street.
Juan pineda is a famous painter of Málaga who founded the artistic platform "Hability".
The mural has a dimensión of 112m2 and it's a mixture of different techniques such as graffiti with sculpture elements. If we look at the painting we can notice three different parts: seagulls on top, then a fisherman's face and swell under it.
The artista wants to represent a modern Estepona with a mixture of tradition and new life which makes you feel calm and sweetness.