ESTEPONA SE VISTE DE FLORES de Susana Velasco. C/ Felix Rodriguez de la Fuente.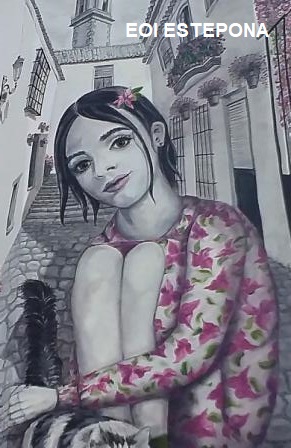 Estepona se viste de flores
María del Carmen Román del Río – B1 – B
This mural is included in the project the Town Hall of Estepona started in 2012.
The artist,Susana Velasco Martínez, who was born in Burgos, painted this mural in 2020. Her painting has got a semi-realistic style and the pink and green colours stand out against the whites and greys.
This mural represents a small street of the old town. There is a beautiful girl who is wearing a dress with pink flowers and green boots. She looks happy while caressing a cat on the floor. Thewhite houses have windows and balconies full of many flowers. Above the roots you can see the church's bell tower.
ESTEPONA SE VISTE DE FLORES
CRISTINA GOMEZ MARTIN B1.B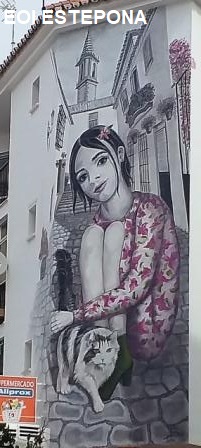 This mural is called "Estepona se viste de flores" and it is situated at Felix Rodriguez de la Fuente Street. It was painted by Susana Velasco, who is an architect and currently teaching at Madrid University Architecture School.
In the foreground, there is beautiful young girl petting a cat in the middle of atypical street in Estepona's old town, where the characteristic flowerpots hanging on the walls, as well as the traditional flagstone pavement, can be appreciated. The girl has a big smile and she seems to be perfectly serene.
In the background, the roofs of the old town houses are shown as well as Estepona's main church tower, "Santa María de los Remedios", which was built in 1473, although its existing state is from 1772.
The mural has been painted in black and white except for the following areas: the girl's long dress, which is full of pink and green bougainvillea flowers similar to the ones on the walls, the girl's shoes and the cat's eyes which are both green, and the girl's lips, nails and earrings which are all pink.
This colours combination makes the mural very impressive and attractive as it forces your gaze to basically focus on the colours. I think it is the perfect technique to highlight the spirit of our town and it brings me loving memories of my childhood summers.