10 – HOLA de Edmon. Colegio Ramón García. Avda. Juan Carlos I.
HOLA (Mª del Mar López García, B2.2 Semipresencial)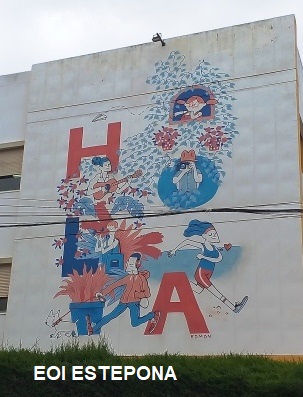 'HOLA' is a mural located on the front wall of the Ramón García school in Juan Carlos I Avenue. Its author's name is Eduardo García Mena, better known as Edmon. Although he is currently living in Barcelona, Edmon was born in Málaga and resided for a while in Estepona. Thanks to 'HOLA' he won the first prize as young artist in the 'I International Mural Competition of Estepona' in 2017.
The mural has been painted in red and blue colors. It shows everyday situations in a town. In the top right-hand corner there is a little girl wearing red glasses and a red dress throwing a paper plane through a red window. The window is surrounded by a creeping blue plant which also descends to the center of the painting encircling two red flowering plants in a pot. Beside them, on the left side, there is an H capital letter painted in red. Below it, a man is playing the Spanish guitar and around him there are some more red flowers. Next to that man, on the right side, another man wearing a hat is coming out of an O capital letter. The man is holding a camera in front of his face. Below the man who plays the guitar a blue-colored L capital letter has some more red flowers on it. A woman is standing next to that letter smelling the red flowers and behind her some red and blue plants emerge. In the bottom left- hand corner there is a dog on a leash walking with his owner. Behind them a big blue pot with a red plant in it fills the corner. In the foreground an A capital letter painted in red leads to a woman who is running in front of the beach with her red bumping heart out of her chest. And finishing the paint, under the right side of the A capital letter the signature of the author is written down in red.
Reading all the letters together it says 'HOLA' which means 'HELLO' in English. Hello to everyone who wants to enjoy the good weather and the nice and quiet places Estepona provides. The paint recreates some of the most popular attractions of the city. For example, the city center with its streets full of flowers and creeping fragrant plants; the 'Senda Litoral' which goes beside the beach, where you can practice some outdoor exercise or just enjoy a beautiful walk. The paint inspires a warm and a peaceful welcome to every visitor and reminds the locals how fortunate we are to live in this city. It could seem a simple painting but it is full of meaning. I'm so lucky to walk by it every morning and it makes me smile every time I look at it. It brings to my mind that it is the beginning of a new day, a new opportunity to live. Edmon, this young author, could reflect all this in a blue and red fresh mural.
HOLA (José Ramón Fernández Bravo, B2.2 Semipresencial)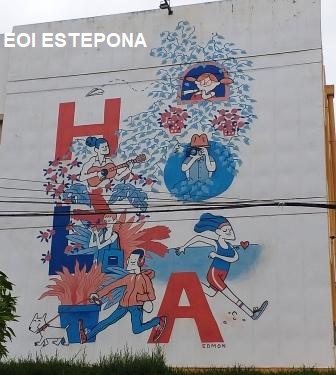 Walking through the artistic murals route in Estepona you can delight yourself with the sight of "Hola", by Edmond. It's a wall mural located at Ramon García School on Avenida Juan Carlos I. Edmond was born in Malaga but lives in Estepona. This street mural was his first work and it won the first prize for a young artist in the International Mural Competition of Estepona in 2017.
To my knowledge, the work represents life explosion in spring. After the winter, sunny weather is back and we open our windows to say hello to the sun, the long-lighted days, the life in the streets…We all go out to live the spring season. The picture is full of plants and flowers. On the top right-hand there is a girl throwing an airplane made of paper across the window. Below that girl, a tourist is taking photos, near that tourist a woman is playing the guitar, At the bottom, a woman is running, a man is walking the dog and another woman is sniffing flowers. All of them are smiling, even the dog.
The painting inspires positivism and the desire to live, even more after lockdown and those endless months that we have lived during the pandemic.
HOLA (Lourdes Rodríguez Rodríguez, B2.2. Semipresencial)
This artistic mural is located at Colegio Ramón García on Avenida Juan Carlos I. It was painted by Edmond in 2017. This is the artist´s first mural.
The whole painting shows the word HOLA (HELLO). On the right hand, there is a girl looking out of her window. There is also a man with his camera and a woman running. On the left side, there is a woman playing the guitar, a girl smelling flowers and in the bottom left corner, there is a man with his dog.
What I like most is that they seem to be people engaged in their daily life. To finish, in my opinion, the word HOLA is an invitation to our city.