42 – LA LUNA de Dadi Dreucol. Avda. Andalucía, 67.
LA LUNA (Fernando González Ruiz – B2.1)
This painting, "The Moon", shows a body painted in white and black with some lines as interferences in the middle. At the top we find a moon represented by an image with many colours. It is the old no signal logo which was seen on Spanish TV many years ago when there were only a couple of channels and they didn't broadcast anything during the night hours until the next morning. At the bottom, we can see five people drawn, four are looking attentively at the moon although there is no signal but one of them is a naked bearded man that has his back turned and he represents a person who is not guided by the rules.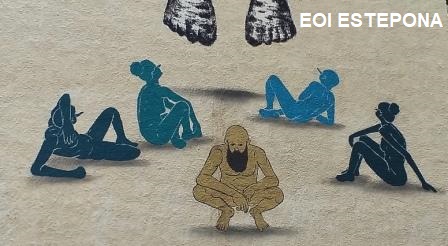 This mural was included in the opening of the International Mural Competition of Estepona in 2017′. The artist Dadi Dreucol studied at the school of fine arts in Malaga and he was also chosen to do several paintings in Soho in Malaga.
Honestly, I like this painting, since it means that we should think for ourselves and not for what we are told by the media.I was struck by the fact that he used the no signal chart as a moon. Possibly, many young people today do not even know what that is.