LA MIRADA DE UN NIÑO de Francisco Alarcón. C/Terraza (Bda. Primavera).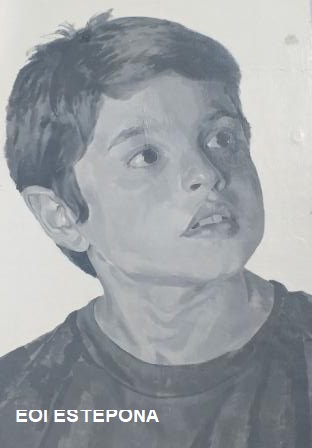 LA MIRADA DE UN NIÑO (Ana Gil Contreras – B2.2B)
This mural was created in July 2013. Francisco Alarcón is from Estepona and, over the years, he has grown as an artist and he has advanced his career.
'The Eyes of a Child' is a realist painting which shows the face of a lovely little dark-haired boy. The painting brings the look of the child into focus; it's the highlight of the picture. He is looking up in an innocent way. Geometric figures are above him. I would say that the artist does not want to distract the observer's attention by using bright colours; on the contrary, he uses plain colours such as black, white and grey, so that pedestrians could stop by and just be absorbed by the gaze of this charming child.
I never thought that Estepona would become so well known for its murals route (there are sixty murals so far). Art on the streets is becoming more and more usual, and it is an awesome way of encouraging tourism and increasing the income of a city.
I certainly recommend taking the time to visit this town and enjoy an outdoor museum with multiple works of art by local and foreign artists.
LA MIRADA DE UN NIÑO (Eva Martínez Calvo & Puri Ríos García – B2.2B)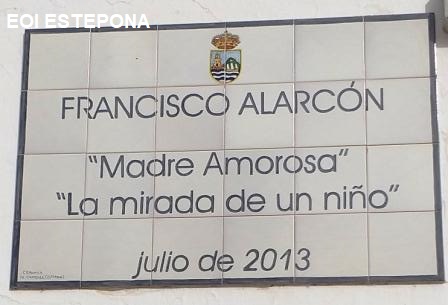 "The Eyes of a Child", along with "Loving Mother", is a mural created by Francisco Alarcón in July 2013. Both are on two contiguous walls on Terraza Street, a very busy area of the Primavera neighbourhood.
Focusing on "The Eyes of a Child", it could be said that the work is quite realistic. This allows the artist to transmit tenderness and closeness. It is not a colourful painting, since the artist has only used a combination of shades of black, grey and white.
The painting only shows the face of a child looking up, but from the geometric symbols painted above we can interpret he is paying attention to an adult who must be a teacher.
Personally, we feel that this artwork underscores the importance of learning, development and creativity in children.
LA MIRADA DE UN NIÑO (Francisco Diego Mateos Ruiz – B2.2A)
This mural is called «La mirada de un niño» ('The Eyes of a Child'), painted by the artist Francisco Alarcón, and it is located in one of the oldest neighborhoods of Estepona (Primavera).
On the one hand, this wall painting represents the innocence of a boy through his way of looking. It is well known that one of the most representative characteristics of children is their innocence, and it is the society that corrupts them over the years. The artist has captured this idea extraordinarily in this painting.
On the other hand, the mural also represents the importance of creativity and art for a child's personal growth. Both are part of one of the multiple intelligences that children have to develop throughout their life.
To represent these ideas, the artist has chosen a color spectrum of grey, black and white, which reinforces the simplicity that he wants to transmit to us with this painting.
As far as I am concerned, this mural is one of the most eye-catching murals of the route of Estepona, so I highly recommend that you visit it, leaving your imagination fly and recalling your own childhood.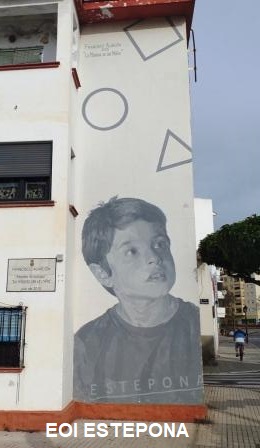 LA MIRADA DE UN NIÑO (José Floria Moreno – B2.2B)
I have chosen this mural, painted by Francisco Alarcon in July 2013, because I am fascinated with this painting for two main reasons. On the one hand, I am captivated by the child's absorbing gaze. On the other hand, by the colors' sobriety – only white and grey.
In my view, for the painter, the most important thing in this mural is not only to capture the boy's beauty, reflected in his facial features, but also his curiosity, innocence, and intelligence, through his gaze. That might be why the artist used no color that could distract the observer from the child's gaze.
Looking at this mural, I wonder what is attracting the child's attention. Is it a discovery? A warning? Who knows?
To anyone who visits Estepona, I recommend wandering along the murals' route, and do not miss seeing this beautiful and mysterious mural.
LA MIRADA DE UN NIÑO (María Tabares García – B2.2B)
Among the more than sixty murals that we can see on the facades of some buildings of Estepona, I have chosen "La mirada de un niño» (The Eyes of a Child). It's located in the city centre (Barriada Primavera) and it's the work of a well-known painter and sculptor, Francisco Alarcon, who was born in Estepona in 1972.
The mural, which was painted in 2013, represents a child with a deep and intense look and a few geometric figures over his head. Due to its lack of colour, -actually it was executed with only black, white and grey colours-, it looks like a drawing. With this painting, the author wants to highlight the creativity of children and the importance of learning for them.
In my opinion, this mural is one of the most beautiful that we can see all around our town. Even if it looks very simple and less coloured than the others, we don´t need more details or colours to understand what the artist wants to transmit.