LLEGANDO A TU DESTINO de Dourone. Prolongación Avda. San Lorenzo, 17.
LLEGANDO A TU DESTINO (JESSICA PACHECO- MARÍA MORO- 4ºB)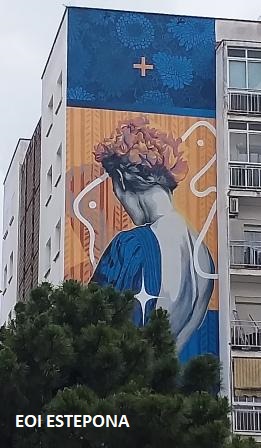 Dourone is the couple behind this masterpiece. The artists are Fabio López (Madrid) and Elodie Arshak (Francia). Their work in "Llegando a tu destino" (Arriving at your destination) is a woman who is surrounded by flowers. This is in Estepona, our town, located on extention of Avenida San Lorenzo 17 and it was included in the 'Inaugural International Mural Competition of Estepona in 2017", which is 21 metre high and they were inspired by this specific region of Spain to do it.
From our point of view, 'Llegando a tu destino' is kind of impressive, figurative, and surrealistic. The values of respect, diversity and freedom make them a masterpiece. This painting puts variety of symbols always dominated by the female figure. They combine bright colours with the illustrative line-works so characteristic of their paintings.
This portrait speaks about womanhood and concepts like responsibility, solidarity, complementarity and creation but also esoteric whole and infinity.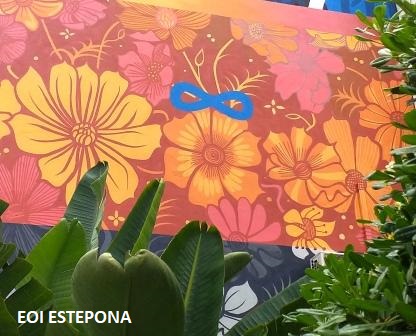 The painting is painted in bright colours, between blue, orange, black and white which makes the woman a realistic and mythical impressive for the viewer. The range between these colours is a great contrast. The design and quality of the lines make this work a spectacular mural.
We feel extremely impressed by this painting because it is brilliant and we feel amazed by its realism and esotericism. Definitely, a mural which is worth seeing if you like outdoor art.