MADRE AMOROSA de Francisco Alarcón. C/Terraza (Bda. Primavera).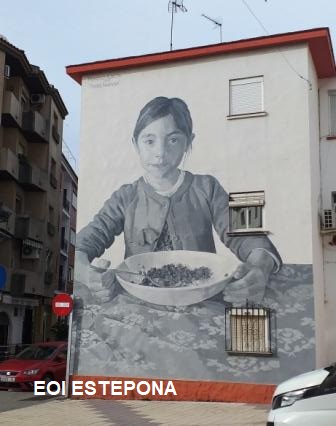 MADRE AMOROSA (Ana María Galán Chantre – A2)
Estepona is a city located in the province of Malaga, one of its main tourist attractions is its great diversity of different murals that we can find throughout the city.
The mural we have chosen is the one located on Calle Terraza in the Primavera neighborhood, called MADRE AMOROSA, its author is Francisco Alarcón of Estepona origin.
One of the reasons why we have chosen this mural from so many spectacular and amazing ones that there are throughout the city, is because it represents the essence of working and humble people such as Estepona.
MADRE AMOROSA (Carlos Francisco Carrizo Morales – A2)
When I discovered the image, it reminded me of nice memories about my family. That's why I would like to describe this piece of art.
Firstly ,this mural is located in Estepona, on a three floor building wall of "Terraza street" in «Primavera» neighbourhood. It was painted in 2013 by Francisco Alarcon.
It is a huge mural. It covers the entire side wall of the building. The main focus is on the middle. On the upper left corner we can see the artist's signature.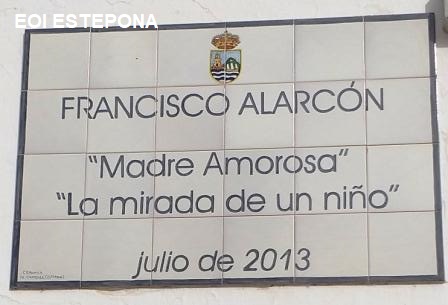 This black and white picture shows us a young girl who is having breakfast. She wears old fashioned clothes. She might belong to older times. She seems to be happy and peaceful although she isn't smiling. The girl's eyes give us the feeling of gratitude.
Finally, this artwork makes us reflect about the importance of being grateful, and appreciate the hard work and the effort of a loving mother.
MADRE AMOROSA (Paqui Cabello – A2)
The mural "Madre amorosa" is located in the Primavera neighborhood on Terraza street .It is a nine meters high painting. The mural is black, white and gray because it simulates a sketch.
The painting represents a young girl. She is about ten years old, the girl is eating lentils, She seems happy. In my opinion the mural is simple but interesting.The mural is sitting
next to a similar painting."Madre amorosa" is a great painting which means the value and work of mothers and grandmothers.
The mural was painted in 2013 by local artist Francisco Alarcon, who has contributed with other murals in the town.