2 – MUSAS de Lalone. Avda. Puerta del Mar.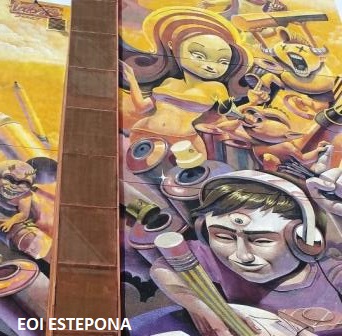 «Muses» by Lalone » (Cristina Ruiz Caravaca y Adrián Tapia Galvez B1-B)
This mural is located in Avenida Puerta del Mar. It was created in 2017 in order to participate in the first «International Mural Competition of Estepona».
It was painted by Eduardo Luque Puertas also known as Lalone. This urban artist, who was born in Málaga in 1982, has left his mark in places like Sweden, Jordan, Berlin or London among other cities. His work is defined by a refined style of spray technique. Also, his style features elements ranging across comic, film, or photography.
From our point of view, this graffiti represents the very same moment when the artist gets inspired by his muses. Even though, we have no clue about art, we consider that this mural is one of the best in Estepona. We think this, due to the amount of details in it, its originality and the way it is unique and different from the other murals in the town.
«Muses» by Lalone » (Orcar Garín García B1-B)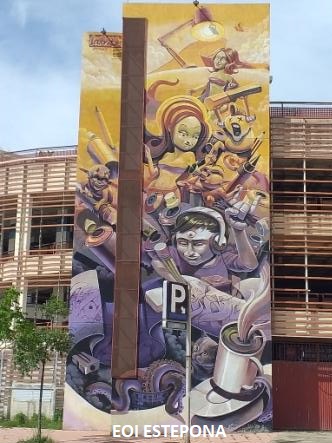 The idea of the route emerged in 2012 and since then, the number of urban paintings has been growing, mixing famous painters with urban art artists like Lalone, a well-known graffiti artist.
The mural represents the artist's inspiration moment. The protagonist is drawing a pencil sketch and listening to music, possibly rock (because of the symbol he is doing with his left hand). The third eye on his forehead means his spiritual visión. Under the coffee, that represents many hours of work, you can see the legs of an octopus as a symbol of all the sketches thrown to the rubbish which want to come back to the table, meanwhile a cat is looking at them. The muses are over the artist and they also represent his own demons in different ways.
The colors at the base are cold and and change to warm colors as you climb on the mural, the focus on top symbolizes the inspiration light.