RECUERDOS ORIENTALES de José Fernández Ríos. Plaza Antonia Guerrero.
RECUERDOS ORIENTALES (Mª DEL MAR GIL GAITÁN – C1.1B)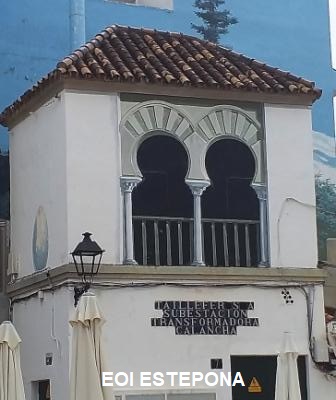 Born in Jaén in 1964, the realist painter and sculptor José Fernández Ríos was invited to paint some murals in Estepona. Among all of them we are going to focus on one which is located in Antonia Guerrero square.
" Evocación Nazarí " is the title of the work of art which is going to be depicted. The master piece evokes the Andalusian soul and spirit through arcades, patios, courts and colonnades. Actually, it is a picture that blurs the boundaries among architecture, art and nature.
Black flames shaped cypresses, thin and elegant, remind the beholder of the heart of a Moorish palace and leaves them with an overwhelming impression of design of imagination and of craftsmanship.
RECUERDOS ORIENTALES (Nieves Díaz Galán – C1.1B)
Estepona´s route of artistic murals is an original project implemented by the city council that started in September 2012. The route is part of urban regeneration purpose and embellishment to the ancient buildings. The idea was that the amount of murals scattered throughout the city would increase Estepona, not only as a tourist destination, but also as a cultural one. The tourist office has published a map that shows the location of murals and, at last count, there are sixty murals on the Estepona´s streets.
One of them is "recuerdos orientales". This artwork is located in Plaza Antonia Guerrero, it´s a 600 m2 mural by the hyperrealist artist José Fernández Ríos. The mural is inspired by the ancient Moorish civilization and its magnificent architecture. You can appreciate typical Moorish archs which reminds the viewer the unique photographic city of Córdoba and its historical Mezquita.
The mural reminds too the archaeological site as well known as the Alhambra in Granada and its famous Comares Tower. Eastern Memories brings back the spectator to the palatial fortification of The Alcazaba in Málaga, one of the most representative examples of military architecture in the Taifa period, with its double walls and massive entry fortifications. You can appreciate two enormous mountains behind the described monuments, one of them is Málaga mountains and the other one is Sierra Nevada in Granada. This work has been painted on different buildings, creating an interesting sense of volume.