SAN ISIDRO LABRADOR de Blanca Larrauri. C/María Magdalena (Bda.Fuerzas Armadas).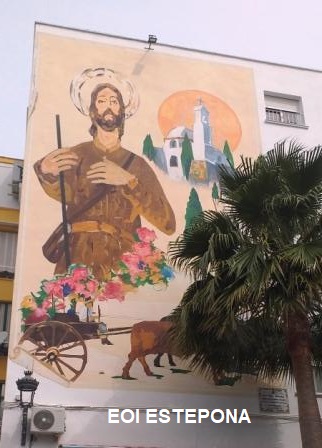 SAN ISIDRO LABRADOR (ESTER DE PRADO NOGUER Y JAVIER MARCOS CRUZ – C1.1A)
San Isidro Labrador is the name given to a mural in Estepona, exactly number 29 in the route of murals. Located on the facade of a building in the neighbourhood of barriada Neighbourhood "Fuerzas Armadas", it was made with acrylic paint and measures 60m². Its function is to pay tribute to Estepona's Saint Patron.
The artist who created this mural is called Blanca Larrauli. She studied Fine Arts at the Lejona University . She has also done two other murals in the locality of Estepona, those are: Aires de Música and Almas del Mar.
The mural of San Isidro was unveiled on June 30th , 2015.
This artwork gathers all the characteristic elements of the patronal feast : that is held on May 15th:the Saint Patron of Estepona and his hermitage, some oxen and a farmer. The colours used are the typical ones of the countryside: brown, green and orange.
Such location was chosen to display the painting after a strategic stop of the parade held on May 15th . The size of the patron and its surroundings show the immense, profound love and respect locals have towards a piece of their heritage and history.
While enjoying the celebration, locals may be seen wearing white shirts or t-shirts and jeans and white and blue kerchieves over their heads, around their necks or wrists as observed in the mural.
Another peculiar feature would be the carriages, which are usually decorated with olive tree branches and placed around San Isidro neighbourhood.
Food, drinks and conversations are shared during a sociable and friendly afternoon where people enjoy Estepona´s unique sun and appealing atmosphere.