AIRES DE MÚSICA de Blanca Larrauri. Plaza San Fernando.
Aires de música (Fernando González Gil- 3º Semipresencial)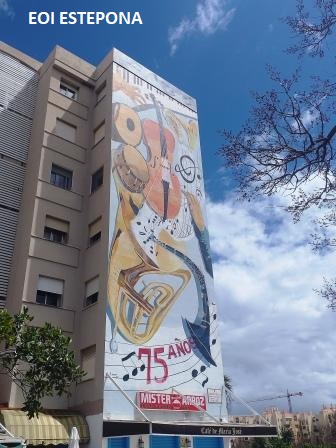 This painting «Aires de música» illustrates several instruments of a band, all surrounded by musical notes. On the left hand there are two drums and a trombone; on the right hand there is a clarinet, and at the top we can find a piano and a trumpet. We can see two hands in the picture: one is playing the piano and the other is on the right side, but it looks as if the hand is playing the notes. At the bottom the sentence «75 años» is written, as a tribute to the music band.
Personally, I like this painting because I like music a lot, and I play the trumpet and the flute with my sons. We are musicians.
AIR OF MUSIC (PAOLA MANNONI, LIDIA GIL, SALOMÉ GÓMEZ, YOLANDA PARRADO, MARILÓ LÓPEZ, SONIA VALADEZ Y ESTEFANÍA MARTÍN- 3ºB)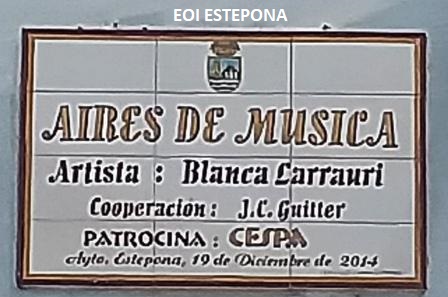 It's a caricature and depicts some musical notes and instruments on movement, for instance a piano, a trumpet, drums…. The artist chose this building because, in her opinion, is the best wall in Estepona considering that it's located in an open bright space and near the Felipe VI Auditorium as well.
We have chosen this mural because we all love music and the artist is a friend of one of us. The mural was painted by Blanca Larrauri Estefanía in 2014. Her mother is the artist Mercedes Estefanía. She has a Master's Degree in Fine Arts and she's made several exhibitions since 1992. 'Aires de Música' is her third mural in Estepona and it's a tribute to the Estepona Music Band on its 75th anniversary.